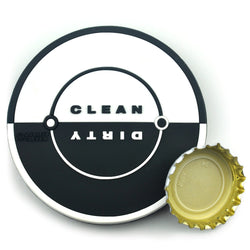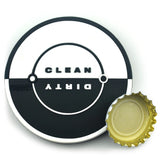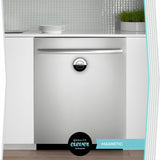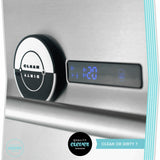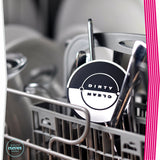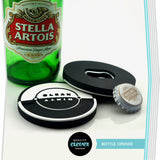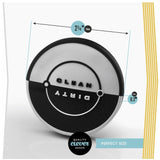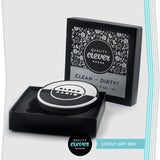 Magnetic Dishwasher Sign With Built in Bottle Opener, Rubber Coated
What a clever idea! Not only is this a beautifully made, rubber coated magnet that holds strong on my dishwasher, there's a handy bottle opener built in on the back. Nice job.
Alyssa Q.
Never add dirty dishes to a clean load again. With its industrial-strength magnet and rubber coating, this sign attaches to any dishwasher without scratching. Plus it houses a handy bottle opener.
STAYS PUT UNTIL YOU CHANGE IT
Cheap signs switch from clean to dirty every time you brush past them, leaving you questioning their accuracy. Quality Clever signs hold tight until you change them.
NO SCRATCH MATERIAL
Durable rubber coating covers an industrial-strength magnet and protects your dishwasher. Won't chip your tile if it's dropped, either.
FIT FOR ANY KITCHEN: Contemporary black-and-white design is a fit for any kitchen, and can easily be seen on any color appliance. 
WORKS ON STAINLESS STEEL: No more settling for flimsy suction cup signs. Simply attach the included adhesive-backed disc to your dishwasher for instant magnetism.
CLEVERLY CONCEALED BOTTLE OPENER
No need to rummage through a drawer for your bottle opener. Your dishwasher sign has one built in, so it's always close at hand.
* 2.75-inch diameter
* Rubber-coated magnet
* Bottle opener on back
* Adhesive-backed metal plate for non-magnetic appliances
* Black & white
WARNING: This product can expose you to chemicals including Nickel Oxide, which is known to the State of California to cause cancer and birth defects or other reproductive harm. For more information go to www.P65Warnings.ca.gov