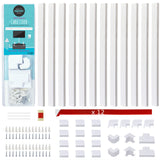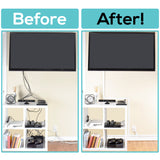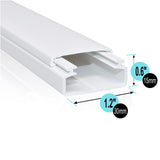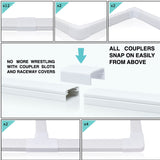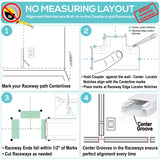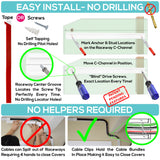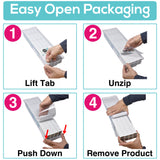 Cable Cover Organizer Kit
This product makes your entertainment system tidy. The most exciting part is the customer service that you get from this company. They are Amazing. This company has the old time values of taking care of their customers. I highly recommend.
Allison J.
No more messy, unsightly cables cluttering your office, living room, entertainment center or kitchen. With this kit, you can tame your messiest cable problems. This set gives you the most Raceway Sections and Couplers out there. Our premium quality cable organizer kit contains:
12 Cable Raceways (16.7"L x 1.2"W x 0.75"D)
12 Double Sided Adhesive Tapes (16"L x 1"W)
28 Screws, Size #6 x 1" (M3.5 x 25mm)
28 Drywall Anchors
12 Straight Couplers
4 Flat Elbow Couplers
2 Inside Corner Elbow Couplers
2 Outside Corner Elbow Couplers
2 Tee Couplers
12 Cable Clips for Easy Cover Closure without a Second Pair of Hands
6 Slump Eliminator Tapes
1 Quick Reference Guide (paper)
NO MEASURING/NO DRILLING EASY LAYOUT AND INSTALL
Patent Pending design. Just draw a center line - the Raceways and Couplers have built-in locator notches showing you where to cut and place your Raceways.
PERFECT SIZE, FITS ALL YOUR CABLES.
Most others are either too small to fit all your cables or look ridiculously HUGE on your wall. This is the perfect size. Pack it full of cables then use the Clips to hold them in place and easily close the covers.
EXCLUSIVE FEATURES GUARANTEE YOUR PROJECT SUCCESS.
The other guys don't tell you that closing their Raceways takes 4 hands, and your vertical runs will slump from gravity. Ours comes with Clips to hold cables in place, and a solution to prevent slump.
PRE-CUT EXTRA STRENGTH TAPE AND/OR SCREWS - YOU CHOOSE. PAINTABLE. EASILY CUT TO-LENGTH SECTIONS.
Newly upgraded Double-Sided Tape comes in Pre-Cut Strips. Screws and Drywall Anchors. Paintable (no priming), though no need to paint if white matches your walls. Easy to follow step-by-step Installation Instructions.
We've done hundreds of installs so we know all of the tricks to make yours quick and easy.
Download your copy of the User Guide for step-by-step instructions along with tips for dealing with the toughest challenges- how to easily close overstuffed Raceways, Eliminating "Cover Slump" on vertical sections, swing joints, running Raceway over uneven surfaces and more.
Need just a few accessories to complete your project? Just call or email us. We'll be happy to send them out to you free of charge (1 lb. Shipment Limit)
WARNING: This product can expose you to chemicals including Nickel Oxide, which is known to the State of California to cause cancer and birth defects or other reproductive harm. For more information go to www.P65Warnings.ca.gov