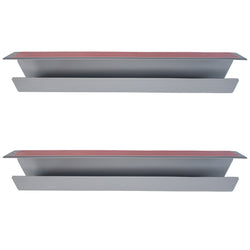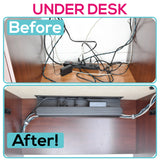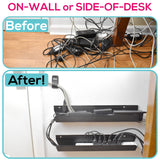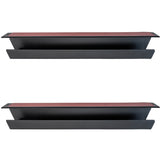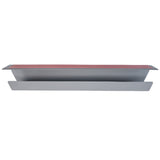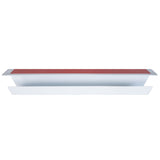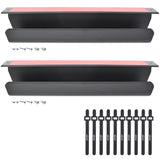 Cable Management Tray, Under-Desk/On-Wall/Side-of-Desk
LOOKS GREAT, ELIMINATES CLUTTER, GIVES YOU PEACE OF MIND. Clean Up Your Work Area, Regain Precious Space, Improve Your Productivity!

2-PACK, PERFECT DIMENSIONS. 2.4" W x 4" H x 17" L fits Your Power Strip, Power Supplies and Cables Perfectly. Those Other Trays shorter than 4" just Don't have enough Space for the Cable Bends coming from Your Power Strip.

MOUNT ANYWHERE- UNDER-DESK, SIDE-OF-DESK/CABINET or ON-WALL. Built-In Adhesive Tape and Pre-Drilled Holes in Top Flange for Under-Desk Mounting. Top Flange is Removable for On-Wall or Side-Of-Desk/Cabinet Mounting.

HOLDS UP TO 12 LBS! Lightweight, Recyclable Plastic but Super Strong to Hold All of Your Equipment Securely.

SUPER EASY INSTALL- NO MEASURING, NO PILOT HOLE DRILLING. Includes (2) Cable Trays, (10) Cable Wrap Ties, All Mounting Hardware and Install Guide
Get some Workspace Zen! No more messy, unsightly cables cluttering your office, living room, entertainment center or kitchen. With this pair of Cable Trays, you can tame your messiest cable problems.
This is the most flexible Cable Tray available. It can be mounted underneath Your Desk, On Your Wall, or On the Side of Your Desk or Cabinet. The Top Flange has Pre-Drilled Holes (16" on-center) and Built-In Double Sided Tape to Hold it In Place while You Install the Screws. There is a Convenient Scribe & Break Groove to Easily Remove the Top Flange if you want an Open Cable Tray for On-Wall, Side-Of-Desk or Side-Of-Cabinet applications. For On-Wall and Side-Of-Desk Applications there's a Fastener Alignment Groove that Enables Easy Install with No-Measuring and No-Pilot-Hole-Drilling.
Included in the Set:
2 Cable Trays, 2.4" W x 4" H x 17" L
4 Screws #6 x 0.5", For Mounting to Desk/Furniture
4 Drywall Anchors, For Mounting On-Wall
4 Screws #8 x 1", For Mounting On-Wall
10 Cable Wrap Ties, 6.5" x 0.5", Reusable Hook & Loop
1 Install Guide (paper)

If you're ready to own the complete Cable Tray solution that offers tons of unique features, provides you the easiest install process, and looks great, click Add To Cart now!
WARNING: This product can expose you to chemicals including Toluene, which is known to the State of California to cause cancer and birth defects or other reproductive harm. For more information go to www.P65Warnings.ca.gov
17" CABLE TRAY
24" CABLE TRAY